1992
Where it all began, The original Flames Steakhouse Opens
2001
Our Giardino Doro opens in downtown, Manhattan
2017
Flames Steakhouse, Our flagship restaurant re-opens in a brand new location
Flames Steakhouse founded in 1992 by Nikolla Vulaj as the premier American Steakhouse in New York 's Westchester County. It has been lauded by local and national critics as the benchmark for American Cuisine.
BRAND NEW LOCATION NOW OPEN!!
121 E Main St, Elmsford, NY 10523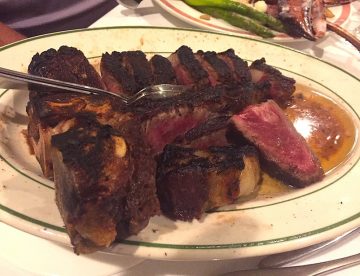 It is a general rule among all restaurants that a menu has both high quality and lesser quality dishes, which is especially the case with American steakhouses, where the menus do not radically differ one from another. Thus, after saying…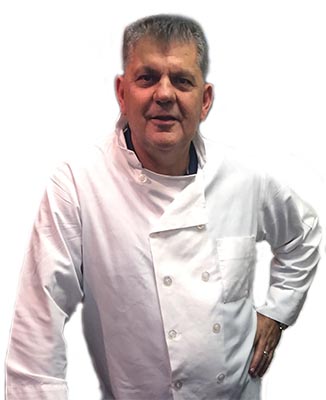 Creating flavor combinations that bring cooks and our restaurant guests pleasure is my job and I love it."
A great dining experience! Reasonable and tasty with awesome service. Who could ask for anything more?

I enjoyed a meal at Flames for the first time tonight. The atmosphere was quiet enough to hear your dinner partner and enjoy good conversation. Great for a business dinner, romantic meal or even a bar side drink. The food was all cooked to perfection I enjoyed a taste of my spouse's food. I also enjoyed a tomato and mozerella salad and my husband had the carpaccio appetizer, these items were quite tasty as well. The portions were plentiful and we were too full for dessert. The dessert tray looked amazing. The service was top-notch. The staff was there without being intrusive. They anticipated our needs and were proactive in ensuring our every need was met. I will definitely revisit this fine establishment and enjoy another exceptional dining experience!
The Best Yet!!!!

I have been going to Flames in Briarcliff Manor NY for about eight years. There is not much more I can say but it is Great!!!!! This is a must for anyone who wants a fantastic steak and the sides are great too!!!!
I've been here a few times, and it's always great!

The steaks are cooked perfectly, and they come out on screaming hot plates. If you ever need it cooked a little more, they sear it for you right on the plate. The oysters are wonderful as well, and the bar makes great cocktails. This is definitely a special occasion type of restaurant.
Best Steak in Westchester

I consider myself a steak guy. I tried Flames last night and loved the steak at Flames. I could not believe that there is a place in Weschester that makes a steak exactly (if not better) like Luger. Ofcourse the decor is a lot better than luger and choice of sides far exceeds the luger aswell. Excellent wine list. I guess I won't have to drive to Luger anymore !!!
Family favorite for special occasions

Our teenage sons LOVE Flames and their wonderful steaks. We love all the delicious sides and good wine selections. The service is beyond compare, if typically steakhouse stuffy. We are so lucky to have Flames right in our backyard. One of the best steakhouses in Westchester County.
The food is aweosme.

the steak is second to none, the appetizers are great and that desert they have there, which i cant find anywhere else is worth the trip by itself. because i know nick i usually try to get one for the road if he doesnt mind parting with the glass it comes in. I give it a 5 because it is quiet, there is a very personal feel when you are there. The food is worth the cost and you always leave full and happy.
GREAT PLACE FOR BEEF, FISH, VEGETARIAN

I like the delicious preparation of every meal I have ever eaten at this restaurant over the years. SO good!
A Must

This restaurant located in Briacliff Manor NY has our family coming back over and over for more. Great venue for Porterhouse and RibEye. Recently added Itialian cuisine, not the reason I go there, but non the less very good.
I have lived in Upper Westchester for 20 years, and never thought I could have a Manhattan steak house experience in the area, I was wrong when it comes to Flames.

The food and service are top notch, steaks cooked to perfection, bone in filet my favorite and wasabi tuna app was awesome, oysters also very good.. It's not cheap but I highly recommend this place, u will be very happy if you go.
The Best Steak Ever!

I'm glad to see Flames was added to Tripadvisor. We went to Flames with another couple to celebrate a special event. We knew it was going to be expensive but the other reviews on other sites said the food was good but the decor was terrible (as if that matters). I can't imagine what the other reviewers were talking about. The decor was just fine. The food was outstanding. The Porterhouse for 2 was incredible, the Filet Mignon was outstanding. It was the best steak any of us had in a long time. Highly recommend this restaurant. Don't let the prices scare you. It's worth every penny.
No need to go to NYC

Flames is consistently good. Steaks and seafood are delicious. Hard to believe it is in Briarcliff!
Amazing food

My family and I have been to flames quite a few times and each time the food has been delicious. It is costly but well worth it. The cocktail shrimp are huge, sides delish, and steak one of the best I,ve ever had. I actually got real excited saw Billy Murray there once. -- felt like I was reliving my childhood. I would def recommend making a stop here
Excellent Traditional Steak House

If you like like old steak row in NYC, than this is the place for you. All the classics cuts of steak as well as sides (ie: creamed spinach, cottage fires,sauteed onions, tomato and onion salad etc.) prepared with the quality and style you'd expect and served with the same traditional flair and presentation of the classic old school steakhouse. Very pleasant and knowledgable wait staff and excellent wine list. More personal and not so cookie cutter.
This place is terrific.

All the comforts, class and quality of a NYC steakhouse right in our backyard. Can't wait to come back.
The steak came out sizzling and not drenched in butter

just its own incredible flavor, we met the owner whom couldn't be more accommodating and warm. I will be visiting Flames again as well as introducing my family and friends to the experience, additionally it is located right in Westchester with plenty of parking. Thank you Flames, I will see you again.
From the time we arrived we were greeted like royalty.

Once inside we were greeted by the hostess with a smile and led to our table. So far I am pleased. Our very friendly server told us the specials and gave us a little time to make our decision. We didn't feel rushed at all. After dinner we decided to have a drink by the bar which has to be one of the most beautiful bars. There we met the new owner. He was pleasant and treated us like family. My husband and I will definitely return and we look forward to another amazing night
Best steak in the area!

Good for pasta too!
Excellent dinner and service.

The waiter made suggestion and he was right. If you haven't tried it make it a new destination to try
Flames is great.

The staff is extremely well trained. We had the house red can't remember what it was but it was good. The Meat is out of this world. Get the seafood bisque if they have it. Alos the twin tail entree is a deal. I go with my wif she orders the Fillet I get the lobster. She eats one bit of mine I eat all of heres because the fillet is huge.
Our service was excellent

from the moment we walked in to when we left we were catered to. Everything was simple but yummy.
This is the best steak I have ever had

maybe it was chance but i have been to most of the New york area's top steakhouse's and this was the best cut I have ever had. Service was good, ambiance was equal.
Wow - We had an excellent dining experience.

I dine at the top steak houses and Flames was on par.
We absolutely love Flames!

The food is excellent, the staff is very attentive and friendly and the atmosphere is elegant and sophisticated.
My wife and I had dinner at this wonderful restaurant

and we were both delighted! The staff was very friendly and courteous and the ambiance was very cozy and quiet. I ordered a Prime T-Bone steak that was simply DELICIOUS while my wife ordered a Prime Sirloin which again was DELICIOUS!
My family has been coming to Flames for years

for special occasions and have never been disappointed.
Flames is the posterchild for extraordinary aged steak

It is the main route for the steak stairway to heaven
Opening Times
| | | |
| --- | --- | --- |
| Tue-Sun | | 12:00pm – 10:00pm |
| Mondays | | Now Open 12p–10p |
| | | |
Book your table for lunch or dinner.