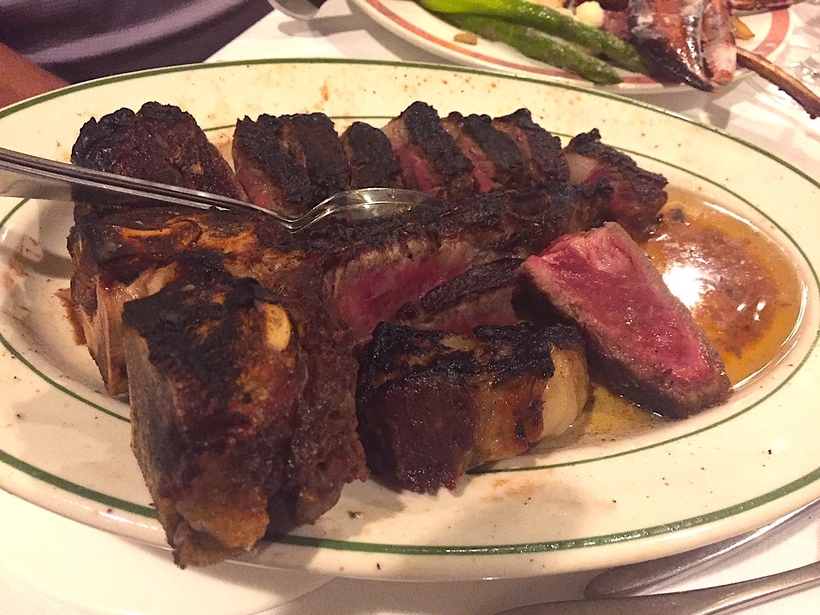 It is a general rule among all restaurants that a menu has both high quality and lesser quality dishes, which is especially the case with American steakhouses, where the menus do not radically differ one from another. Thus, after saying the beef is of excellent quality, one might find that the hash browns are not up to snuff or the desserts are mere afterthoughts and the wine list all too familiar. Rare is the steakhouse where every item on the menu is at the same standard of quality. The new Flames Steakhouse in Elmsford, a suburb of NYC in Westchester County, achieves that standard and does so at prices a bit lower than what you'd expect in Manhattan. Owner and executive chef Nikolla Vulaj, originally from Montenegro, has had decades to attain then maintain a place in the first rank of TriState area steakhouses, having opened his first in 1992 in Briarcliff, N.Y., also in Westchester County (now owned by others under the name Flames Bar and Grill).
Now just two months old, the new Flames is already a restaurant worth seeking out whether or not you live in the 'burbs. It's a handsome three-room affair: A spacious lounge with a curving marble bar and dark woods is well stocked, and the bartender pays attention to how you order your cocktail; the main dining room, with an impressive marble fireplace, soft overhead lighting, dark wainscoting, very comfortable chairs, tilted mirrors and white tablecloths has a civilized but unpretentious cast, well served by a staff of veterans who work in teams. There are walls stocked with wine, about 250 selections and growing, and Vulaj knows every one of them well. To the right is another, brighter room.
There are fine little touches like the presentation of a good loaf of bread and a big slab of butter, along with hot potato chips cooked in beef fat that adds decided flavor. I'll get to the quality of the meat in a moment, but one item in particular among the appetizers typifies Vulaj's commitment to buying the best. At better steakhouses a crabmeat cocktail ($21.95) might—if you're lucky—be made with jumbo size lump crab, but it is extremely rare when, as at Flames, you get a generous portion of colossal crabmeat (below), which wholesale runs $36 per pound.
The same goes for the extra large shrimp ($19.50), twin lobster tails ($54), and the ingredients in the salads. The eggplant rollatini ($12.95) with prosciutto and melted fontina in a light tomato-tinged cream sauce is very good, and I cannot think of a more classic rendering of spaghetti alla carbonara—no cream, no onions, no parsley—than I've had at Flames, and the portion will easily feed two ($26.95).
The veal chop with mushrooms ($48.95) weighs in at about 16 ounces, and the American rack of lamb is comprised of four beautifully trimmed chops (below). Lobsters of various sizes—three to four pounds (MP)—are either expertly broiled or steamed, served with a ramekin of clarified butter. Flames carries the usual cuts of beef, from filet mignon ($48.95) to porterhouses cut for two to four people ($98 to $188), and over many years of eating beef at Vulaj's restaurants, I know that he searches out the best USDA Prime he can get his hands on, and his kitchen knows how to give them a good char while keeping the juices inside. He also serves Japanese wagyu beef (MP) when available, and if that's your idea of gluttony, you might as well go with it here.
Side dishes get just as much care, from creamed spinach ($8) that seems equal parts cream, butter and spinach, lightly seasoned, to various kinds of potatoes, though I think the mashed potatoes ($8)—starchy on a recent visit—need work.
One of the desserts that's always been a crowd pleaser is the zucchino ($10), a very rich layering of reduced English cream, white chocolate and mocha mousse and meringue.
I am guessing that the reason that Flames Steakhouse is such a bright, new example of its genre may be due to Vulaj's short retirement from the business, so that, as so often happens with restaurateurs, he couldn't stay away and has re-entered it with a whole new spirit and buoyant attitude to make it better than ever.
FLAMES STEAKHOUSE 121 EAST MAIN STREET ELMSFORD, NY 914-592-3500
View original review here – https://www.huffingtonpost.com/entry/59e4b60ce4b02e99c5835848